Montmartre, a Paris neighborhood,
but still a village atmosphère.   
On of the most visited Paris neighborhood – One of the city's most famous landmarks.
Montmartre is a hill. On its summit : the Sacré Coeur (=Holy Heart). For some Parisians, its nickname is "Paris' beauty spot"
A village until 1860 and the feeling still nowadays that you're not totally in Paris.
Cobblestones narrow and winding streets, quaint houses, vineyards (yes : still nowadays ! A Harvest Festival every 1st weekend of October), 2 windmills, romantic alleyways and long stairways, restaurants and cafés that could be located in Provence, quiet squares. The feeling that you're far from a big city…
And it's where Amelie, (the movie) was shot.              
And from the Sacré Coeur terrace : a beautiful view over Paris.
Montmartre : the highlight of artistic life 
From the end of the 19th century ,  Montmartre is the center of artistic life in Paris, the model of a free , bohemian existence.  Composers, writers, painters, poets are gathering, lived and worked in Montmartre
Impressionist painters :Manet, Monet, Renoir, Degas, Pissaro, Utrillo, Cezanne, Sysley…
Other painters : Modigliani, Picasso (he painted "Les demoiselles d'Avignon" in Montmartre), Van Gogh, Dali, Braque, Toulouse Lautrec, Seurat, Léger…
Writers, singers, poets, musicians : Appolinaire, , Debussy, Ravel, Satie, Stravinsky, Mallarmé, Verlaine, Proust, Edith Piaf, Boris Vian, Jean Cocteau, Truffaut,  ,, the Surrealists…etc lived  there too.
To enjoy Paris as a local : take a walk in Montmartre with "Ann Jeanne in Paris"
More photos :
My advice :
I'm a bit sad to see visitors going straight up to the top of Montmartre hill, stay for a while near the Sacré Coeur and Place du Tertre, then get back to the Metro stop Abbesses or Anvers. Yes, they're missing a lot of what makes Montmartre a charming and quiet place, a village with its narrow cobblestone streets, its quaint houses…etc They're probably missing the most important.
Visit Montmartre in the morning so to avoid too much crowd and if possible, plan to stay at least 3 or 4 hours in the neighborhood, the best would be the day with a break in a nice and quite restaurant or café not too close from the most touristic spots.
Why not start your walk from the Metro Stop Lamarck Caulaincourt (north of the Sacré Coeur) or from the Metro Blanche ? (see the Metro Map – Menu : Useful informations) – Metro Pigalle or Anvers possible too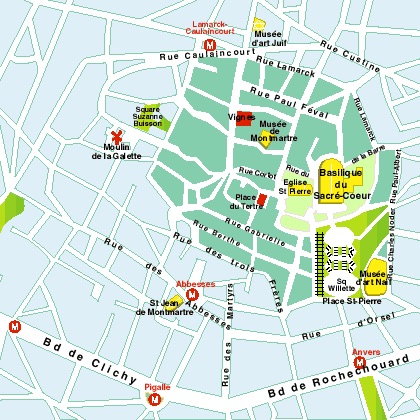 How to get to Montmartre ?
Lamarck Caulaincourt  or Abbesses (line 12)
Blanche, Anvers (line 2)
Buses : 30, 54, 67 or Montmartrobus.
Some addresses :
Le tracteur rouge – 41 rue Caulaincourt – Paris 18 : for a lovely lunch, brunch, or dinner in a charming and very welcoming place. Metro Lamark Caulaincourt (at the bottom of Montmartre hill)

L'Hôtel Particulier – Charming hotel in the middle of Montmartre

L'été en Pente douce – a nice colored tarrace – a quiet village atmosphere – a very pleasant place for a lunch, a drink, a break

Le café des 2 moulins (the café of Amelie (movie)) – 15 rue Lepic – Paris 18 – Rue Lepic :

where much of the movie

Amelie

was shot)

Grenat et Taffetas –  Beautiful vintage jewels – 25 rue Houdon – Paris 18 nearby the Place des Abbesses – Metro Stop : Abesses

75018

 

Paris –  

0142592249      –   Tuesday to Saturday : 11 am to 7 pm, Sunday : 12 am to 6 pm

Bakery Boris Lumé – 48 rue Caulaincourt – Paris 18
Here is a video shot a rainy winter day in Montmartre
Visit Montmartre, with "Ann Jeanne in Paris", native Parisian : 
(cobblestones winding streets,  romantic alleyways, long stairways, vineyards, windmills, authentic cafes …)
WELCOME !
I'd be delighted to welcome you and show you "my" Paris. And Paris will become "your" city too 🙂

The tour is private (with you only or you and the person you choose), at your pace. Duration : Half a day

For more details : The tours – Booking and Pricing
Feel free to contact me