Amelie (the movie) movie is set in Montmartre.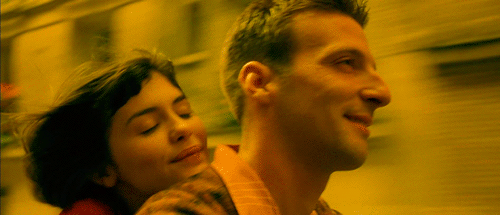 Amelie decide to change the lives or those around her for the better. The movie was filmed mainly in Paris. The Café des 2 Moulins where Amélie works is a real place, as the Greengrocer store, the video store…etc
Stylistic, inventive, humoristic and charming movie : 
It's a romantic comedy which was nominated for five Academy Awards including Best Foreign Film, Best Cinematography, Best Sound, Best Art Direction and Best Original Screenplay. Though the film failed to take home any awards, the film is still very popular in France as much as abroad. It's stylistic, inventive, charming, humoristic…
A great love story : Amélie and Nino
Amélie falls in love with Nino Quincampoix, a dreamy  young man who works in a sex shop and in his spare time collects pictures from railway stations' photo booths. Since Amélie is so introverted, a great part of the movie's fun lies in watching the imaginative strategies she invents to seduce Nino.
The café and the Greengrocer : 
Amélie isa waitress at the café des 2 Moulins in Montmartre, which is staffed and frequented by a collection of eccentrics.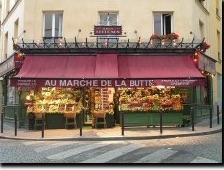 "Amelie" : some of the movie's locations : 
rue Saint Vincent – Paris 18 (Montmartre)

rue des Saules       –      "                "

Sacré Coeur Church

Amelie's appartment : 56, rue des Trois frères – Montmartre

The greengrocer store ("Au marché de la butte") : at the corner of Rue des Trois Frères and rue Androuet  (map below)  

Café des 2 Moulins : (the art deco café where Amelie works) 15 rue Lepic (map above)

Metro Lamark-Caulaincourt with the double staircase
Link to : "Montmartre, a village in Paris" article  
My advice : 
When you visit Montmartre, take a break at the cafe of Amélie; It's really like in the movie. It's a nice and quaint cafe…. but often crowded (everybody wants to visit the Amelie's cafe…). So maybe choose a weekday and avoid the rush hours (midday and teatime…)

The nearest metro stop to the cafe is "Blanche". 

To feel the atmosphere of the movie, walk the little streets between Lamark Caulaincourt (the metro stop) and the Sacré Coeur.
Amelie (In French : "Le fabuleux destin d'Amelie Poulain") – 2001 – Directed by Jean-Pierre Jeunet with Audrey Tautou, Mathieu Kassovitz – Soundtrack by Yann Tiersen