Montparnasse  : the spirit of the beginning of the 20th century.
The heart of Montparnasse is more specifically, the area around Vavin Metro Stop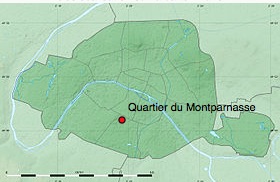 Montparnasse often gets bypassed when visitors come to Paris. At first sight : not a touristic place, no highlight spots, nor renown buildings. But culturally, it is a central neighborhood, rich by its history. And a very Parisian and nice place to live in. 
Montparnasse is loved by so many Parisians … and unfortunatly missed by so many visitors…  !
Surely a neighborhood where to find the spirit from the beginning of the 20th century. A wonderful mix of new and old.  An area where you have the feeling of a real neighborhood. And without hesitation, the area where I would choose and love to live if I had to move (unless I chose Saint Germain des Prés !).
Location : Montparnasse is located on the Left Bank of the river Seine and covers parts of the 5th, 6th,14th and 15th arrondissements. It's bordered by the Luxembourg garden to its north. 
Some history 
Montparnasse reached its heyday in the 1920s and 30s, between WWI and WWII. Montparnasse became the heart of intellectual and artistic life in Paris. It's called "Les Années Folles" (= the Roaring 20s").  and Vavin (Metro Stop : Vavin) was the center of the neighborhood.
Many artists came from Montmartre to settle there in search of low rents (lodging and workshops). 
Others from around the world (from Europe, including Russia and Ukraine, from the U.S., Canada, Mexico, central and South America, and Japan) came to stay in Montparnasse, looking for a place they could freely work and create. Between 1921 and 1924, the number of Americans in Paris swelled from 6000 to 30000. 
Some of the artists in Montparnasse in the 20s and 30s
I'll take you where Hemingway and Scott Fitzgerald first met.
Painters, writers, sculptors, poets, photographers, composers... And most of the Paris artistic community settled in Montparnasse neighborhood.
Pablo Picasso, Samuel Beckett, Joan Miro, James Joyce, Gertrude Stein, Tsugouharu Foujita, Diego Rivera, Modigliani, Guillaume Apollinaire, Salvatore Dali, Man Ray, Marc Chagall, Eric Satie, Zadkine, Degas, Hemingway, Scott Fitzgerald, Henri Miller, George Braque, Jean Cocteau, Chaim Soutine, Blaise Cendrars, Fernand Léger, André Breton, Giacometti, Dos Passos…
In Montparnasse are the iconic cafés of the Roaring 20's (and of the following decades too !)
Those which were the haunts of so many artists and writers such as Hemingway, Picasso, Fitzgerald, Desnos, Sartre, Beauvoir, Miller, Anaïs Nin, Braque… They frequented the cafés along Boulevard Montparnasse, such as La Closerie des Lilas, La Rotonde (photo above), Le Dôme (photos below), Le Select, La Coupole…
Beautiful architecture : 
Welcoming and historic cafés
Kiki de Montparnasse : the Montparnasse's muse. She was the model of many artists : Man Ray, Fujita, Modigliani… She was the lover of Man Ray.

Nowadays, young students from around the world, come around the art supplies shops and arts academy of the rue de la Grande Chaumière. 
Traditionnaly, Montparnasse is also "home" to Parisians coming from Brittany (Western France), because trains from Montparnasse station travels back and forth to Brittany. 
More recently, since the 70s, Montparnasse neighborhood has become more upscale and many old ateliers have been converted into upscale housing. Nowadays. But the cafés of the 20s and many others, restaurants, many crêperies (as crêpes are traditionally a Breton meal… !) still there
My personal story linked to Montparnasse :
Many Breton people came to settle in Paris from the mid 19th century to the 1960s.This is what my Breton grand Parents did in the 30s. They came from Brittany when they were very young (one of my grand father came on his own, knowing nobody in Paris and around… and he was only…. 13…. didn't speak very well French and was feeling so lonely when he arrived….)
My 2 grand mothers and 2 grand fathers came from Brittany by train, arrived at Montparnasse train station and lived the rest of their lives in Paris
I live 10 minutes walk from the heart of Montparnasse and I've been studying during my secondary school years in Montparnasse. This is a place where I very often go : to the cinema, to meet friends, to read at one of the iconic cafés (or less renown cafes) or to eat buckwheat pancakes. This is the place where I used to dance Breton dances very regularly a few decades ago (Remember : Montparnasse is the Breton neighborhood of Paris !)
Walk in the footsteps of the great artists and writers with Ann Jeanne in Paris. Don't hesitate to contact me !
More photos at the bottom of this page
My advice :
Get out at the Metro Stop Vavin (not Metro Stop : Montparnasse) which is the center of the real Montparnasse neighborhood. 
Enjoy a drink at "La Coupole" or at the café "Le Vavin" (rue de Vavin) to let you have a feeling of a real neighborhood. 
Rue Vavin (a small and short street), you'll find one of the best Paris "Chocolatier" (Jean Paul Hevin). Also nice small shops. 
After your Montparnasse visit, you can enjoy the Luxembourg garden, just nearby (end of rue de Vavin)
You can choose to have a nice meal (pricey) at Le Select, Le Dome (for fish meals), or a nice restaurant in a small street rue Jules Chaplain. 
Lots of crêperies rue de Montparnasse for a nice meal (cheaper) and delicious. 
————————————
Meet the soul of Montparnasse with Ann Jeanne in Paris, 
Walk in the footsteps of the great artists and writers who first found inspiration there : Hemingway, Scott and Zelda Fitzgerald, Gertrude Stein, Modigliani, Man Ray, Picasso, Modigliani,…  You'll see the place where Hemingway and Fitzgerald first met, the place where Hemingway wrote "The Sun also rises", some  the streets where most of the theaters and cabarets of the area were located (some are still there), the art supply shops and academies of art where the artists used to go, the iconic cafés of the 20's and of the following decades (still very renown and appreciated cafes-brasseries), the place where you can enjoy the best crêpes of Paris, one of the best and chic art fair of the left bank (depends on the day of the visit), a very lively open market (depends on the day of your visit), wonderful building façades.
Private walking tours : You only, or you and the person you choose. I'll show you around in Montparnasse. Don't hesitate to contact me   
Montparnasse is one of my most favorite neighborhoods. This is the neighborhood where I've been studying several years at the secondary school, the neighborhood where I've always loved meeting my friends, going to cafes. So many wonderful cafes which such a great history…     
YOUR Private walk, with Ann Jeanne in Paris, native Parisian
Feel like a Parisian ! No lectures, but an encounter, and a personal and intimate walk while you share the Paris I love and see places you may not have seen on your own. See Paris in another perspective and know more about Paris lifestyle and daily life too
CONTACT me for a private walking tour and EXPERIENCE PARIS like a true Parisian
You only, or you and the person you choose.

Duration of the tour : half day tour or full day tour, but it can be adjusted to your

wishes It includes a coffee in an authentic Paris cafe. 

The tours can be customized according to your preferences and interests 

For more details : The tours – Booking and Pricing – Don't hesitate to contact me
More details :
Close access to major centers (a few minutes walks to Luxembourg garden, 15-20 minutes walk to Saint Germain des Prés and the Latin Quarter, 15 minutes by subway to the Eiffel Tower, lots of restaurants, an open market 3 days per week, many cafés (La Rotonde, Le Select, Le Dome, La Coupole…)
The renown Montparnasse cemetery (the second largest burial ground in Paris) : graves of many of the neighborhood's most illustrious residents (Baudelaire, Beckett, Bartholdi – (who designed the Statue of Liberty), Maupassant, Man Ray, Samuel Beckett, Sartre, Beauvoir, Jean Seberg, Ionesco, Saint Saëns, Satie, Soutine, Zadkine, – Entrance on Bd Edgar Quinet – Paris 14 – Metro Stop : Edgar Quinet
La Closerie des Lilas : a Left Bank institution – A chic Piano Bar with a bronze plaque with Hemingway's name. a Brasserie and a restaurant (pricey).  An article about Closerie des Lilas coming up soon. – 171 boulevard Montparnasse – Paris 6 – Metro Stop : Port Royal or Bus n°38 – Vavin (5 minutes walk)
Edgar Quinet Market : An excellent street Market every Wednesday and Saturday (fresh food and clothes). A crafts market on Sundays. – Boulevard Edgar Quinet – Paris 14
Bourdelle Museum :  a heaven of peace for lovers of art, sculpting. museum dedicated to the life and works of the sculptor Antoine Bourdelle. – Metro Stop : Montparnasse
La Fondation Cartier for exhibitions of contemporary art (a building designed by Jean Nouvel)
Numerous crêperies in the neighborhood (Metro stop : Vavin or Montparnasse) : a nice and affordable break (salted wheat flour crêpes and sweet crêpes). Crêpes = thin pancakes.