The Latin Quarter is located on the Left Bank, between the Seine and the Luxembourg Garden.  It's an area known for its lively, narrow and winding streets, its students bookshops, publishing houses, its experimental cinemas, its cafés, and jazz clubs…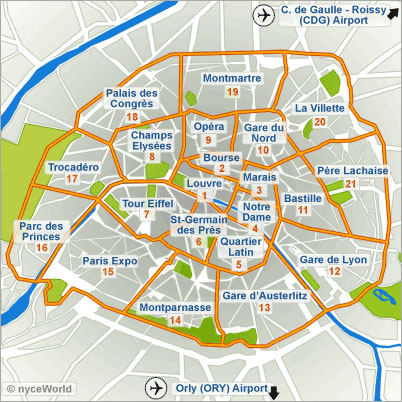 In this area, famous institutes of learning among them, the 2 most prestigious lycées (high schools) Henri IV and Louis Le Grand, the Ecole Normale Supérieure, the Sorbonne, the Collège de France, Ecole Normale Sup…… 
This neighborhood is a part of Medieval Paris (Middle Âges : from the XI century to the end of XV century). This area was dominated by the Sorbonne since the Middle Âges. The Paris University was created in 1215, the first in France; 4 subjects were taught : Theology, Arts, Medecine and Law. During the 16th century, there were 40 000 students and 65 colleges. Latin was the common language. 
It gets its name from the common language spoken by theology students who came from all over Europe beginning of the 13th century to study at local university such as the Sorbonne. Latin was spoken in the area until the French Revolution (end of 18th century)
Take a walk in the Latin Quarter : the best way to enjoy it !
But one of the best way to enjoy the Latin quarter is to stroll the little streets : rue de la Harpe, rue de la Huchette, rue Galande, rue Saint Julien le Pauvre, rue de la Bucherie, rue Frédéric Sauton… When you walk in the eastern part of the area, you'll be surprised to see how quiet it is  !
Here are a few Latin Quarter locations and buildings :
Place de la Sorbonne and La Chapelle de la Sorbonne. The Chapel was built in the 17th. The place is lined with cafés and shops. It's one of the favorite haunt for students of the nearby Universities and schools. 
Midnight in Paris  : a famous location of the movie is in the Latin Quarter
Eglise Saint Etienne-du-Mont :
Located on the left side of the Panthéon (just behind).  This church houses of shrine of Sainte Geneviève, patron of Paris and the remains of the great literary figures Racine and Pascal. Its rood screen is gorgeous and really worth a visit.The steps in front of its entrance are where Owen Wilson sat to go back in time in the movie (in "Midnight in Paris" – Woody Allen). 
(Saint-Etienne-du-Mont church (Latin Quarter) 5 place Sainte Genevieve – Paris 5)
The Panthéon : Conceived (mid 18th century) by Louis XV to honour Sainte Genevieve  (Paris' patron). With the French Revolution, the church was turned in to a Panthéon. It's a location for the tombs of France's great men and women (Voltaire, Rousseau, Pierre and Marie Curie, Victor Hugo, Emile Zola…)
The College de France : one of Paris's great institutes of research and learning, established by François 1er in 1630. You can easily enter its courtyard.  (College de France's main entrance :  rue des Ecoles – Paris 5)
The Middle Âges museum  :
a late 15th century medieval mansion and one of the world's finest collections of Medieval Art.  (7 rue de Cluny – Paris 5 – RER Cluny Sorbonne or Metro stop Luxembourg or Saint Michel)
The Gallo-Roman baths : built in AD 200. The baths lasted for about 100 years before being sacked by the Barbarians. Romans settled around the Montagne Saint Genevieve and built Lutecia. They built an acqueduc of 15 kilometers and a network of paved roads, a forum, Baths, theaters…    In the 3 century, Lutecia was a small town of 6000 inhabitants. The remain of the Gallo Roman baths can be visited. (7 rue de Cluny – Paris 5 – Same address than the Middle Âges museum)
Saint Severin church : a typical Gothic style church. Begun in the 13th century. It took 3 century to build
Saint Julien le Pauvre church and the Paris' oldest tree : Saint Julien le Pauvre is one of the oldest church in Paris (12 century and rebuilt join the 17th century). An a setting for a lot of music concerts. In the park beside the church : the oldest Paris ' tree planted in 1601)
The Place Saint Michel : the popular meeting point for students, but not only students, and its fountain (Michaël killing the dragon)              
Some more photos
To experience Paris as a local :  take a walk in the Latin Quarter with Ann Jeanne in Paris
My advice :
In my opinion, the best way to enjoy the Latin Quarter is to take your time and stroll the area, go in a café (or several !) to rest and people watch. I suggest the cafés Place de la Sorbonne.
Walk to the Place du Panthéon and pay a visit to the Saint Etienne du Mont church just behind the Panthéon and then,

sit on the steps where Owen Wilson sat in Midnight in Paris

!
Spend more time in the eastern part of the area (between rue de la Bucherie and the Panthéon).
Take a break at Shakespeare and Company's cafe : a nice place and lovely pastries and snacks. The coffee is delicious too.  Shakespeare and Company café – rue de la Bucherie – Paris 5 – Metro Saint Michel
Link to the article :  Shakespeare and company 
YOUR Private walk, with Ann Jeanne in Paris, native Parisian
You'd like to feel like a local and having a tour in a Paris neighborhood, but you don't feel having a tour with a group ?

You'd like to discover Paris off the beaten path ?




You'd like to see Paris in another perspective and to know more about Paris lifestyle 
Meet Ann Jeanne in Paris
CONTACT me for a private walking tour and EXPERIENCE PARIS as a local
You only, or you and the person you choose.

Duration of the tour : 3-3.5 hours. It includes a coffee in an authentic cafe

The tour can be customized according to your preferences and interests 
For more details : The tours – Booking and Pricing
Don't hesitate to contact me