Angelina and its hot chocolate
Angelina's hot chocolate : what's special about it ?
Angelina serve a renowned hot chocolate,  meant to be one of the best in Paris. It  is the "Chocolat chaud à l'ancienne", an old fashioned hot chocolate called « L'Africain ». A sumptuous  thick creamy hot chocolate, made with quality raw ingredients, and served with fresh whipped cream
You will be served a cup and saucer along with a pitcher of steamy, hot chocolate thick and creamy. You almost need a spoon to consume it. Fresh whipped cream is served on the side along with a glass and a carafe d'eau.  Please, watch the video below : 
About Angelina :
The first Angelina tea room opened in Paris, is located  in the arcades of the Rue de Rivoli  (Rivoli street) in the 1st arrondissement of Paris, at a walking distance from Le Musée du Louvre, la place Vendôme and la Place de la Concorde. It's  a very renowned  place so there is often a queue in front of the door.
There are several Angelina tearooms and boutique in Paris (For more details : see at the bottom of this page)
Best known for its signature dessert, le Mont Blanc (a meringue and light whipped cream covered in Ribbons of chestnut cream) and its chocolat chaud à l'ancienne, l'Africain, )
Pastries and light lunches
Angelina tearooms serve pastries,  breakfasts and light lunches too (salads, quiches…) 
A rich history
When you dine at angelina, you don't only  experience pastries and drinks , but a rich History
A bit of history :
Angelina was founded in 1903 by Antoine Rumpelmayer, an Austrian confectioner. The Rumpelmeyer family emmigrated from Austria-Hungry to settle in Nice, in the south of France in the late 1800s. They decided to open their own teahouse in Nice. It was a success and they followed with teahouse in Monte Carlo and Antibes. Such a salon du thé was rare at the time. Most of its clientele were aristocrats who lived in Paris but visited the French Riviera occasionally on vacation.
Soon, the Rumpelmayer family decided to relocate to the City of Lights. And in 1903, they opened the now-famous Parisian landmark Angelina, with a Belle Epoue style decor. The interior design was by French architect Édouard-Jean Niermans (1859-1928). Originally, this teahouse on rue de Rivoli opened as Rumpelmeyer tea house. However in 1930, owner Antoine Rumpelmeyer changed the name to that of his daugter-in-law, Angelina.
This historic tea shop has become a Parisian icon. Since 1903, the style decor has been kept exactly the same as it was before, refined and elegant, with mosaic floors, lots of mirrors, marble-topped tables, lovely French style chairs and armchairs, and soft lighting. 
And the Hot Chocolate has been a classic since the beginning !
Chic server uniforms : Stylish servers'uniforms were created by couture designer Alixis Mabille , who has worked with design names like Dior, John Galliano and Hedi Slimane.
Sebastien Bauer : Born in 1978 in Alsace, he joined the legendary Angelina as Head Pastry Chef. Sébastien Bauer was born in Alsace which gives him the perfect background to supervise the marvelous confectioneries created at Angelina.

Coco Chanel : For years,Coco Chanel was a daily customer just for the hot chocolate. She lived in Hôtel Ritz Paris, at Place Vendôme in the 1st arrondissement. Everyday, she entered the glass doors of Angelina and she was regularly seated at table 10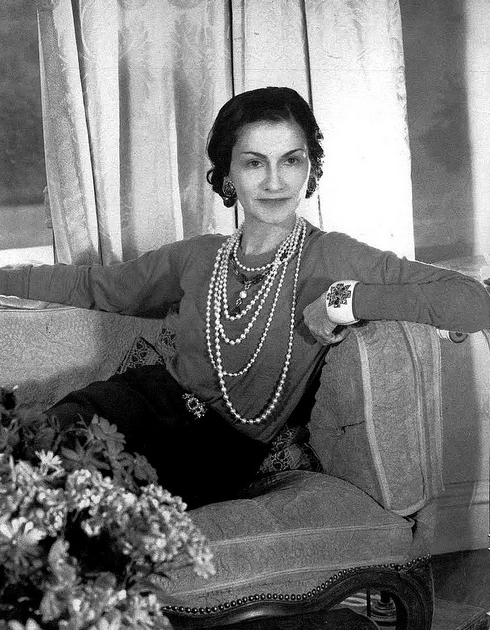 Audrey   Hepburn : It was one of her favourite places when she was staying in Paris.
RECIPE    
(Hot Chocolate according to Angelina's style)
The hot chocolate "L'Africain" has been a classic since the beginning.
550 g whole milk
150 g dark chocolate than 70%
200 g whipped cream
Cut the vanilla pod lengthwise, remove the seeds.
Boil the milk with the vanilla and let steep, covered a few minutes, remove the pod.
Add the dark chocolate 70% using a whisk.
Depending on your taste you can cook or not.
More you cook, the more hot chocolate is thick and velvety.
Serve in the container of your choice with whipped cream on the side. 
Experience Paris, with Ann Jeanne in Paris, native Parisian :
You'd like visit Paris, but you don't feel having a tour with a group ?

You 'd like to feel welcome in Paris, whether you're coming alone or not

You'd like to get a real feel of an authentic Paris, the Paris of the Parisians and get full of tips from a native ?
You'd like to see Paris in another perspective and to know more about Paris and Parisians's life and culture ?
FEEL WELCOME !
I'd be delighted to welcome you and share "my" Paris with you. And Paris will be "your" city too 🙂

The tours are private (with you only or you and the person you choose), at your pace and customized according to your wishes and interests
For more details : "Ann Jeanne in Paris" tours, Booking and Pricing
All the tours can be customized
Feel free to contact me
Practical informations
Angelina, Rue de Rivoli : First Angelina opened in Paris – 226 Rue de Rivoli, 75001 Paris, France – Mon – Friday 07:30–19:00 – Sat Sun 08:30–19:30    –     +33 1 42 60 82 00
A lovely pastry counter near the entrance 
Watch the video (made by Angelina cie) below and visit Angelina rue de Rivoli      –     Web site : angelina-paris.fr
Additional Locations : Nine other locations  throughout Paris (tearooms and shops)
Rue du Bac : Address: 108 rue du Bac, 75007 Nearest transport: Metro : Rue du Bac (line 12) – Open every day – 01 42 22 63 08
Palace of Versailles : Pavillon d'Orléans – 1st Floor at Pavillon d'Orléans  – 78000 Versailles – 01 39 20 08 32 – Closed on Mondays
Musée du Louvre – Aile Richelieu, Café Richelieu  – 75001 Paris – 01 49 27 93 31
Musée du Luxembourg – 19, rue de Vaugirard  – 75006 Paris  – 01 46 34 31 19
Galeries Lafayette – 40 boulevard Haussmann – 75009 Paris – 01 42 82 82 93
My advice : 
Another great Hot chocolate : 
Taste the hot chocolate at Le Cafe de Flore too : very similar to Angelina's hot chocolate
Le Flore is an iconic cafe in Saint Germain neighborhood. And the welcoming is generally excellent.
At Le Flore, you can have a gorgeous Millefeuille by Hugo et Victor. It's probably my favorite Millefeuille with the one of "Le Nôtre" pastry shops