Metro : Starts at 5.30 and ends at 1am from Sunday to Thursday  and 2.15am on Fridays and Saturdays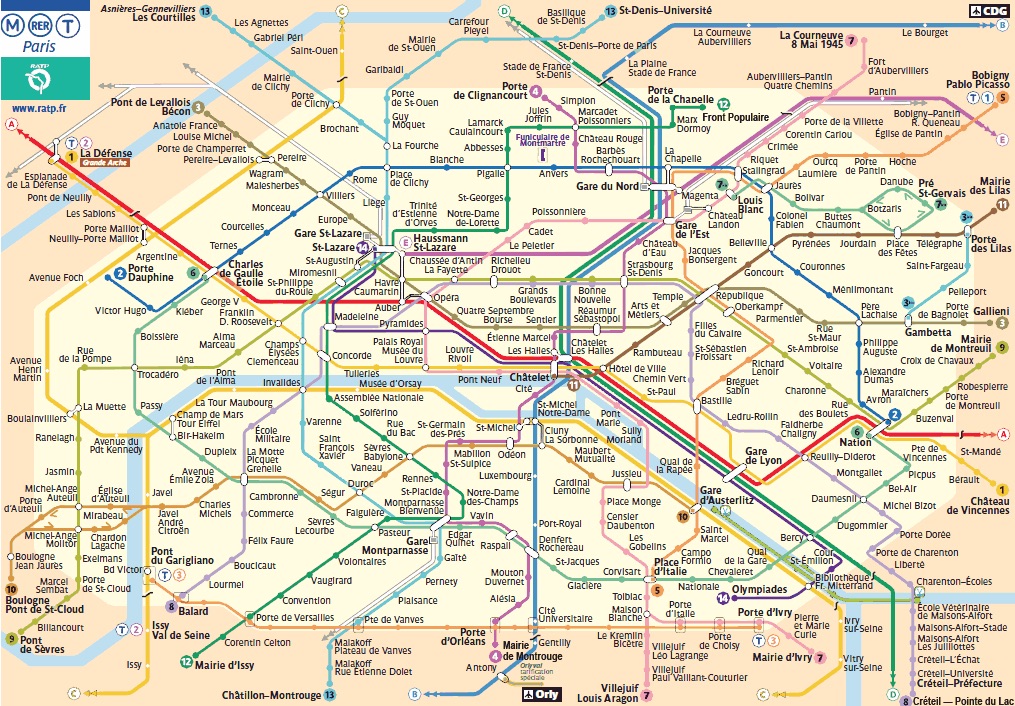 Which fare/ ticket to choose ? 
2 main options : a book of tickets or a Paris visit Pass
1 – A TICKET or A BOOK of tickets
To travel by metro, bus, tramway or RER (=suburban express railway), you can use a ticket.
They can be purchased (generally : at the entrance of the metro) singly or in a book of 10 for 14.40 euros. Each ticket can be used for one journey including the connections.
a metro ticket which costs 1.80 euros
a book of 10 ("un carnet") costs 14,40 euros
If you choose this option, the best is to buy "un carnet". "Je voudrais un ticket s'il vous plait" .
This ticket allows you to travel anywhere in Paris (You can go until the end of each metro line. You can use it in the bus or the RER as well, as long as you remain within the city limits.).

But if you go out, for a walk or a visit, when you take the metro/bus/RER again, you have to take another ticket.

The ticket must be inserted in the automatic barriers in the metro and RER and punched in the machines on the buses.
CAUTION : Keep your ticket until you've finished your journey (you may be asked to show it.)
BTW : Remember that Paris is not a giant city, and it can be pleasant to walk from one point to another. It's a way to discover the city.
If you have no ticket, you can buy one in the bus, but it will be slightly more expensive (1 ticket = 2 euros) and you need to give the exact price to the conductor.

Transport is free for children under 3 and half price for children between 4 and 11 years old.
2 – You can either choose a PARIS Visit (Pass transport): 
Unlimited travel, anywhere in Paris  (bus, metro, tramway, RER and Montmartre funicular) during your stay in zones 1 to 3 (close suburbs) or in zones 1 to 5 (included airports CDG/Orly and Versailles).
It's valid for 1,2,3 or 5 consecutive days.

 Each day begins at 5.30 am and ends at 5.30 am the following day. This Paris Visit Pass is valid for full days and not for 24, 48 or 72 consecutive hours (ex : a whole day would be counted even if you  begin to use it at 8 in the evening.
The Zones 1 to 3 travel pass will probably be the most convenient option.
It is a magnetic ticket : You insert this ticket in the automatic barriers in the metro and RER
In the bus : 

YOU DON'T

punch it in the buses's machines (You just show it to the driver as you get on the bus)
Before using it, you must write your last name, first name and the valid dates on the magnetic ticket.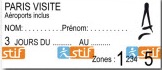 Here are the Paris zones :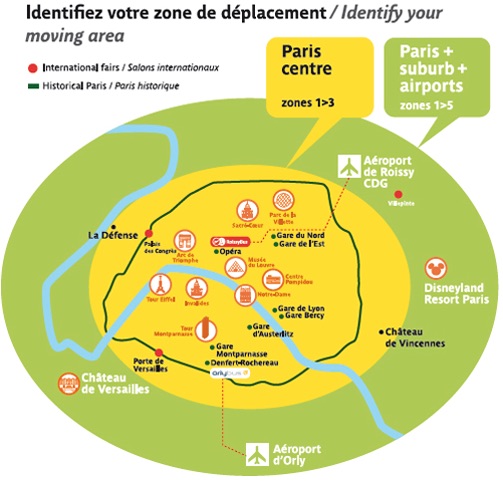 Paris visit's prices : 
Where can you buy a Paris Visit  ? :
At the entrance of the metro or in advance on the Internet: 

booking.parisinfo.com/il4-offre_i146-transports-a-paris-ratp.aspx

Or you can get it online and pick it up

at the airport

at the tourist information point of your choice : 

www.parisaeroport.fr/passagers/services/reserver-en-ligne/paris-visite 
Interesting links : 
Tip for surviving the Paris metro and the Paris RER :

www.ratp.fr/en/upload/docs/application/pdf/2014-10/mode_emploi_t.pdf

Booking you Paris Visit and picking it up at the airport : 

www.parisaeroport.fr/passagers/services/reserver-en-ligne/paris-visite 

Booking your Paris Visit online : 

booking.parisinfo.com/il4-offre_i146-transports-a-paris-ratp.aspx