ABOUT ME AND MY PARIS LIFE
Some of you asked some more details about AJIP and myself.  Thank you for your attention and interest. So here are a few details about who I am and about my background (studies, family and activities) in Paris, and about AJIP (Ann Jeanne in Paris)
Blogger, photographer, Paris lover, native Parisian and….. happy founder of "Ann Jeanne in Paris, a friend in Paris" (AJIP afriendinaparis.com). I founded Ann Jeanne in Paris, a friend in Paris in 2014. The achievement of a long time purpose (and dream… !)
My services : Private walks // Help to plan your stay // Photos and videos on Ann Jeanne in Paris FB page // articles on afriendinparis.com // More videos on my Patreon // Outdoor photo shoots // Photos on sale //  CONTACT
————————————-
BORN AND RAISED in PARIS
I was born and raised in Paris. So were my parents.
 Born and raised in the 14th arrondissement (Southern part of Paris). This is where I live now, too.   (But… by the way… does it really matter being born in Paris or not … ?? (!!) (Please, read below)
————————————-
BUT BEING A

NATIVE OR NOT

, DOES IT REALLY MATTER  … ?!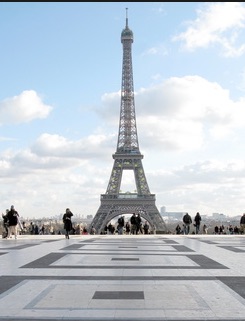 Actually although I've become a scarce resource (!) as there are fewer and fewer Parisians families who are born and still live in Paris through several generations, I don't think being a native Parisian is really that important concerning AJIP
It's more about having known and loved Paris, through several decades, and through its different aspects. It's more about having observed and experienced the changing of a city, more a question of having been a child, a student, a single, a friend, , a married woman, a mother, having worked in the city of light, which made Paris culture and Paris life an intimate part of who I am. This is what I enjoy :  sharing my Paris with my clients…. with YOU !
My article : "Why AJIP ? … and  my thoughts and vision about travelling"
---
SHARING with you THE PARIS I LOVE AND THAT I KNOW MOST
My goal is "sharing rather than leading" ! I share my Paris with you. And more especially, the places and neighborhoods that I know and that love most, those which have a very special meaning to me, in my own life and in my family history too. This is the real meaning of "Ann Jeanne in Paris, a friend in Paris" (afriendinparis.com).
Being a Paris friend rather than a guide. Sharing rather than leading. A different state of mind, a different philosophy. Breathing and experiencing  the city and its culture, rather than visiting it.  AJIP walking tours (each on can be personalized according to your wishes and interests)
Here are, below, some photos of some of you ! (photos posted with your permission)
————————————-
MY PARIS HOMES,
I was born and raised in 14th arrondissement (South part of Paris)  And this is where I currently live. In an Haussmannian building built in the early 20th century. What do I prefer most in my building ? the entrance hall (!) the back courtyard and my apartment too. The peacefulness and the History of the neighborhood where so many artists and writers lived especially in the 20s and 30s (Foujita, Braque, Nin, Miller, S de Beauvoir, Soutine, Dali, Gauguin, Matisse … )
And much more recently : F. Hardy, J Dutronc, F. Sagan… just to name a few.
Here I am in the entrance Hall of my building.
And this is where Françoise Hardy lived until the 80s, a few dozen meters from our building. She used to shop in the same shops as my mother's
In the meantime between my childhood and until a few years ago, I have lived  in other different Paris neighborhoods too, in the west part of Paris, and in the 17th arrondissement (North East part of Paris)
————————————-
MY STUDIES (in MONTPARNASSE

and the

LATIN QUARTER ):
After my secondary school years in the heart of the historic Montparnasse,
I studied during 4 years at the Sorbonne University in the heart of the Latin Quarter This is where  I graduated a master in Law (I studied law and other subjects too, such as History).
I completed this master by some more years,  before graduating with a second master in marketing and communication
————————————-
MY PROFESSIONAL ACTIVITIES
I then worked as a consultant in consulting companies whose activities were mainly focused on the cosmetic field. I worked in Paris, in the 8th in the 16th, in the 9th… and a few others
Then, my family life led me to go in another direction. I worked in the National education. During these years I worked  on a project related to the history of Paris, more especially upon Lutèce (the gallo-roman city before Paris was called Paris). During these years I worked as a teacher too. This  "Lutèce project" enhanced my interest in Paris, its architecture, its origins
This is surely this project about Lutetia  that inspired me and drew me to founding "Ann Jeanne in Paris, a friend in Paris" ! In addition to my old dream and goal of creating my own business. 
And since my students' years …
Since the end of my studies, I never stopped working as a photographer. Taking photos for architects and doing photo shoots (portraits) when I was asked – some "Ann Jeanne photography" portraits below  (photos posted with the permission of each model)
And now I take photos and videos for my blog and AJIP Facebook page too.
I do some outdoor photo shoots too, but separately from the private visits.
————————————-
MY PARENTS : From

Montmartre hill

 and 

rue Cambon

to the

14th arrondissement

via the

Lutetia palace

.
My parents met in Saint Germain des Prés in the Lutetia palace during one of the balls that, at that time, this palace used to host
Although my family is originated from Brittany, my parents were born and raised in Paris. My father lived nearby Montmartre in the apartment which was located in the back the shop run by his parents. It was a traditional boutique (photo below) alike all those little shops  that you could see all over Paris until the 70s.
My mother lived in the Latin quarter first, then rue Cambon (nearby Place de la Concorde and le Jardin des Tuileries ) in the building just opposite the iconic Chanel apartment and shop (at n°31). I must admit that when I was told that, I couldn't believe it. So amazing, more especially as it seems that my mother didn't mind so much about this detail of her life. Then, they finally moved and settled in the 13th arrondissement on the edge of the Latin quarter
Beside their very busy professional activity in liberal (they worked together), they were fine gastronomes.  I experienced many great restaurants with them during my youth. My mother was also a very talented cook and my father an expert in Bordeaux wines (not an everyday cooking but refined meals on weekends or special occasions).
You've guessed, I've lost my parents now. They both rest in Montparnasse cemetery (Paris 14). A few meters from my piano's teacher 's final resting place.
————————————-
MY GRAND PARENTS
My ancestors are originated from Brittany (western region of France). A region which was quite poor until the 80s. Many Breton people immigrated from Brittany to Paris during the few decades prior to WWII. They were arriving at Montparnasse train station and thus, many Bretons settled around the station. It still is the Breton neighborhood of Paris. That's what my grandparents did (They arrived at Montparnasse, although they didn't settled there).
Although my grand parents came from Brittany, both the couples met in Paris.  One of my grand father started as a bus conductor then run with my grand mother a small shop which was selling mainly Breton specialties "imported" from Brittany twice a week (buckwheat galette, cider, butter "à la coupe" and many other products).
It was an old traditional shop selling wonderful quality products.
My other grand father left Brittany on his own, at 13, without knowing anybody in Paris and unluckily, he was much more at ease speaking Breton than French. It has been a though time for him. He lived and worked on the edge of the Latin Quarter very close to the first apartment where Hemingway lived during his Paris year. And this was during the same period of time than Hemingway's first years in Paris.
In the 20s, he met my grand mother in Paris and they got married at Saint Etienne du Mont church in the Latin Quarter (this so beautiful church which was chosen by Woody Allen to film these iconic scenes of Gil waiting for a cab to take him to meet the writers and artists he admired so much.)
My grand mother was a talented seamstress. She started working (from when she was a very young teenager) as a housekeeper for Paris' upperclass families, then as seamstress, during a large part of her life.  
And how fun when you know that my grand mother's first name was Angelina (and Angelina was one of the favorite place of Chanel !), that she was steamstress and she lived during several years exactly opposite to Chanel 's apartement rue Cambon… ! And apparently it didn't really matter to her !!
When I was a teenager, my grand mother used to make clothes for me that I used to design with some fabrics we used to choose together !
WHAT DO I LOVE MOST ABOUT PARIS and MY PARIS LIFE ?
Hearing seagulls, (even if I am not nearby the river Seine !) and cuckoos,
walking along a quiet street and being suddenly surprised by the sound of church bells ringing, enjoying a river cruise (no it's not only for visitors !),
strolling Saint Germain des Prés on an evening when everyone is out, walking by homes and favorite places of writers and artists who came and lived in Paris decades ago. And as you may have noticed (if you follow my FB page !) I love discovering and watching mascarons (not macarons… !). 
Working, reading dreaming or meeting friends in cafés.
Going to my favorite pastry shops, going to concerts, exhibitions in my favorite museums, strolling on an early morning along the Seine or through le Latin Quarter, at a quiet time, discovering this little architectural detail that I hadn't noticed yet during all my Paris years … !
Walking on the Roman steps (Yes I always amazed by that. It really thrills me !), searching for the history of some places, Entering a courtyard and finding these old artist studios exactly as they were in the 30s… going to where I have to go by bus, … living in my neighbourhood and the history of it and …. meeting you and sharing my Paris with you … of course !
I am currently working on gathering in a little booklet a list of my favorite addresses, those addresses that I keep secret and dedicate to you only, when you book a day-tour with me (my best "flan parisien"in Paris, a stunning 19th century setting, a custom hat shop, an amazing pastry shop… and so on). It will come with your booking (a day walk with AJIP).  Sent to you by postal mail before your visit to Paris
Nota bene : The "faux-pas" you may find in this text are authentic faux-pas ! I didn't use Google Translation !
Please read my article about My thoughts and vision about travelling
As a reminder : Here are my services : 
My services : Private walks // Help to plan your stay // Photos and videos on Ann Jeanne in Paris FB page // articles on afriendinparis.com // More videos on my Patreon // Outdoor photo shoots // Photos on sale //  CONTACT
During your stay in Paris : Private walks, customized according to your interests and wishes (one or 2 persons only, to keep the walk more intimate and friendly) – Any booking come with tips and suggestions Contact
I help you plan your stay
My Facebook page, with daily posts of photos and videos
My website afriendinparis.com where you'll find details and informations about Paris places and spots – Lien
You now have access to more (and longer ones) videos, by subscribing to  my patreon : the way to feel you're in Paris even if you're far away.
You can even get your own videos of Paris, choosing the street(s) where you want me to film the video. By subscribing to my patreon :
If you'd like to get much longer videos which would be exclusive ( sent to you only by email), please contact me 

Photos on sale : soon…. Please stay tuned !

For any other service

, please contact me
©2015 – Ann Jeanne, A Friend in Paris / All Rights Reserved
All photographs and text ©Ann Jeanne in Paris. Please do not reuse or copy without express written permission from the author.